Opportunities at Expo 2017
Health and Care Innovation Expo is a unique event that showcases innovation and celebrates the people who are changing the NHS.
Health and Care Innovation Expo 2017 will take place on 11 and 12 September, at Manchester Central. The NHS you'll see at Expo is a forward-thinking organisation, staffed by clinicians and managers who welcome innovations in technology and information because they recognise the difference this will make to their patients' lives.
As an event partner, supporter or exhibitor your vision, experience and expertise will help bring about the transformation in the NHS that we all want to see. As a speaker, contributor, or pop-up university workshop leader, you will lead learning and sharing that goes beyond Expo to make real changes in the way services are commissioned and delivered.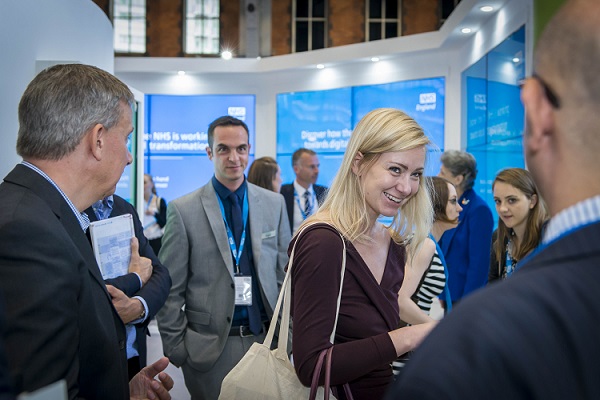 Commercial Opportunities
With the focus on learning, networking and debate, there are a range of opportunities to get involved depending on your commercial objectives.
Headline partner
For a small number of significant companies who want to have an integral role across all aspects of Expo, and promote themselves as a national leader in innovation and care, headline partnership allows you to connect with leaders and delegates through many touch points:
Working with NHS England leaders in the design and delivery of Expo
Holding a partner reception dinner or drinks reception
Main stage presentation
Stand in the lively exhibition
Mass profile building through branding in all associated marketing and PR.
Supporter
Demonstrate the value of your services and solutions through a range of supporter options
Exhibitor
Manchester Central is the perfect venue for Expo. Flooded with natural light, the main hall contains two speaker stages, feature zones and carefully selected exhibitors. More than 100 exhibitors will develop new relationships and business opportunities. Exhibition spaces range in size from 3mx3m up to large free-standing 80 metre spaces.
To discuss opportunities and have a chat about your needs, please call 0207 593 5500 or email healthexpo@dods.co.uk
Non-commercial contributors
We are already working to secure the highest-calibre speakers, and working with partners across health and social care to identify the key themes for Expo 2017, and make sure the event continues to focus on the most relevant, important and rapidly-developing areas of health and social care.
The pop-up university will return, with a range of workshops led by national leaders and local exemplars, along with four key feature zones which will again run their own programmes of events throughout the day.
If you are from a public sector or voluntary organisation, and want to run a pop-up university workshop, hold a stand or run an event at Expo 2017, get in touch to register your interest and discuss it with us. E-mail us at england.expo@nhs.net