Learning Disability week: Nursing case studies
The Acute Liaison Learning Disability and Autism Spectrum Condition team are a small team, working within Alder Hey Children's Hospital since 2017. The aim of the team is to support and promote reasonable adjustments for children/young people accessing the acute site.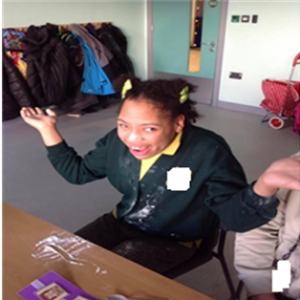 Meet 16 year old Justina (Juzzy). Juzzy loves singing, Benidorm (TV show), being sociable, dancing with whoever and riding her new trike!
Justina has complex physical health needs alongside a diagnosis of a learning disability. Justina has had several procedures throughout her life which can make her anxious about accessing hospital settings.
Justina required treatment and investigations whilst under a general anaesthetic. Justina's primary procedure would be dental treatment and secondary treatments would include outstanding vaccinations, spinal x-ray (scoliosis monitoring), blood tests, and PEG (percutaneous endoscopic gastrostomy) feeding change/sizing.
First visit
On Justina's first attendance for the above planned procedures, she was extremely anxious and subsequently very distressed. Justina displayed her anxiety through dropping to the floor, screaming, attempting to run away, grabbing, and pulling her PEG out. The procedure was cancelled due to the extent of Justina's distress and staff feeling that the time was not right to proceed.
Second visit
Following the first visit, plans were made alongside the wider MDT (multidisciplinary team, including lead anaesthetist) about how to successfully administer the general anaesthetic to Justina safely, whilst supporting her anxieties. A plan was made and shared with Mum. This plan involved; a very quick transition from Mum's car and straight into anaesthetic room  (with all appropriate checks completed with Mum outside of the hospital), a member of the team met Justina outside of the main hospital to maintain consistency of supporting staff, pictures of Benidorm characters were displayed in the anaesthetic room for staff to utilise distraction, favourite songs were played from Mum's phone to which all staff sang/danced to which further aided distraction. We ensured there were continuous dynamic assessments taking place throughout this period – checking in with Mum throughout.
Justina had a very positive experience with limited distress and Mum felt relieved and grateful for the support given.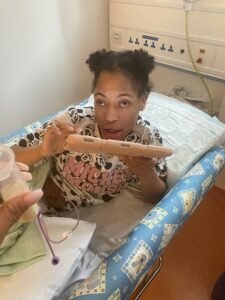 Justina post-procedure
Following Justina's procedure, she had her iPad ready to watch Benidorm (as you can see!).
Justina proceeded to shout, 'Adios Lads!' on leaving the department – to which clinicians felt proud and relieved at a successful visit.
Mum says…
'The team's input has been vital to me and Juzzy.
The team's input has made a big difference to Juzzy and the fact that Juzzy was excited to see one particular member of the team after a very distressing recent admission, says so much!
Can't thank the team enough!'
What's next for the Learning Disability and Autism Spectrum Condition Liaison team?
Build 'everyday, all day' capacity within organisation due to prevalence of children and young people with a learning disability and who are autistic attending
Support the most complex children and young people to ensure they can access their treatment
Collaborate with teams to provide advice, guidance and support best practice
Develop flexibility within team re skills, availability across site and liaison with families
Continue to listen and learn from children and young people, families, carers and staff to provide the best service possible
All information and pictures provided within this case study has been consented to by Justina's Mum.