Promotional materials for GP online services
Two toolkits have been developed to promote GP online services to the public and encourage them to engage with the service. They support you with raising awareness, providing template articles for your website or blog, social media posts for websites such as Facebook and Twitter, and a press release for use with your local media.
Practices can tailor the information in the toolkits so that it is relevant to their practice.
Materials for patients
The following materials and templates have been designed to help GP practices, CCGs and other NHS bodies to promote GP online services to patients. The posters are all available in A4 or A3 sizes, and with or without a white box at the bottom for you to add your own details.
You can order a variety of promotional materials. You can also place your order by phone through our publication order line – 0300 123 1002, quoting the reference numbers below.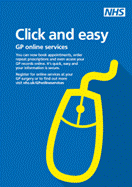 Poster one
A3 with textbox: GPPCEA3WB
A3 no textbox: GPPCEA3
A4 with textbox: GPPCEA4WB
A4 no textbox: GPPCEA4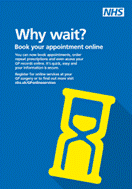 Poster two
A3 with textbox: GPPWWA3WB
A3 no textbox: GPPWWA3
A4 with textbox: GPPWWA4WB
A4 no textbox: GPPWWA4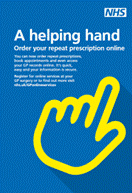 Poster three
A3 with textbox: GPPHHA3WB
A3 no textbox: GPPHHA3
A4 with textbox: GPPHHA4WB
A4 no textbox: GPPHHA4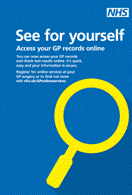 Poster four
A3 with textbox: GPPSYA3WB
A3 no textbox: GPPSYA3
A4 with textbox: GPPSYA4WB
A4 no textbox: GPPSYA4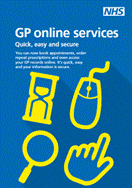 Leaflet
A5 Leaflet: GPPL
Leaflet dispenser: GPLD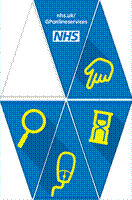 Display Material
Bunting: GPBNT
Stand-up cardboard display: GPSC

Appointment cards
Appointment cards: GPAC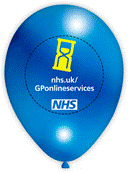 Balloons
Mouse: GPBALM
Pointer: GPBALPH
Timer: GPBALT
Magnifying glass: GPBALMG
Digital materials
The following materials are available for you to download and use. The web banner can be used on your website or in email newsletters. The display slide can be put into your presentations or be used in a display you may have in your waiting room.
Patient information guides
A new set of guides to GP online services for patients is in development. Please check again here soon.