Lydia raises awareness as cancer champion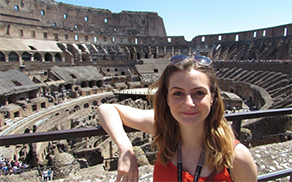 Lydia Brain was diagnosed with an extremely rare form of cancer of the uterus in 2016. Herer experience motivated her to help other young people in the same situation.
After undergoing months of hormone treatment to remove two cancerous tumours, at the age of 24 Lydia had a total hysterectomy.
Now a Cancer Champion for Greater Manchester, a programme which was set up by the GM cancer alliance. Lydia is spreading key health messages and working with charities such as Trekstock, which supports people in their 20s and 30s facing cancer.
"My diagnosis made me think about how I could educate and help to inform others about what has always been seen as a sensitive subject," she says.
"My experience as a Cancer Champion has been really positive and has opened the door to supportive people I can relate to. I attend meetings in my local area and increase knowledge and understanding of cancer. My attitude is now focused on what more I can do to help others who may be in a similar position."