Examples
NHS service delivered by a third party provider (uniform)
Where an NHS service is provided by a third party provider, the service will generally have an NHS service logo. This would be positioned on the right hand side on staff uniforms (e.g. shirts, jackets) when face on.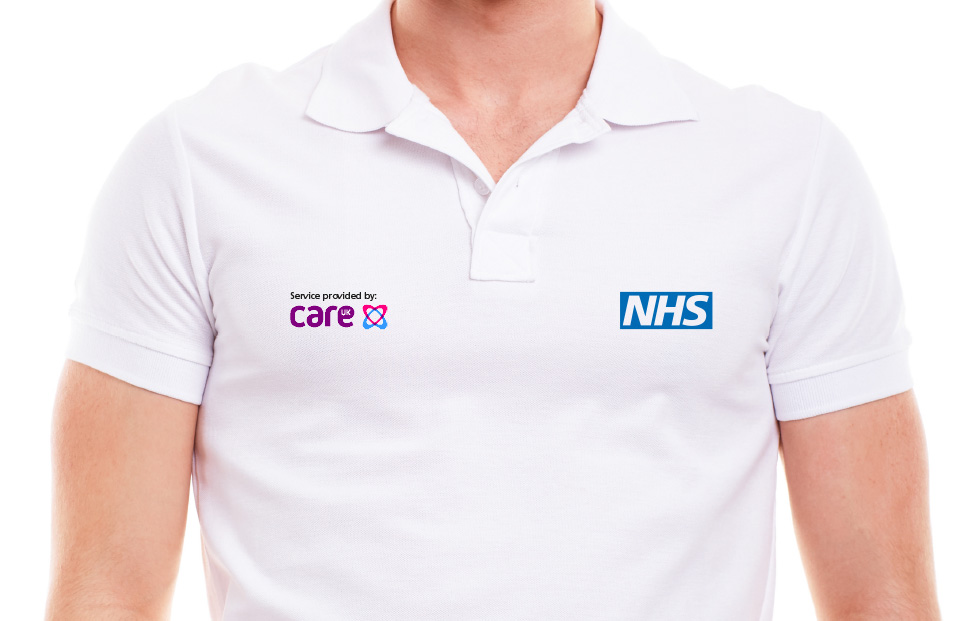 Where the service does not have an NHS service logo, either the stand-alone NHS logo or the commissioning organisation's NHS logo would be used. If the commissioning NHS organisation is an ambulance service, their Crown Badge cannot be applied. The stand-alone NHS logo would be used if staff work across more than one NHS service.
The third party provider's logo should be positioned on the left hand side, under the supporting statement 'Service provided by', as shown in the example. The sizing of the logo should be proportional to, but not larger than, the NHS logo.
No graphic devices or straplines should be included on uniforms.
Uniforms for third party providers commissioned solely to deliver ambulance or patient transport services for the NHS
Where a third party provider is commissioned to solely deliver patient transport services or NHS 999 responses, you can ask permission from the commissioning NHS organisation to apply their logo to the uniform. The member of staff must be working 100% of the time to deliver patient-facing NHS services.
If the member of staff only delivers NHS services part of the time or if the member of staff is providing support and/or non-patient facing services, then the NHS identity cannot be applied to the uniform.
In the case of a 100% contract, the commissioning NHS organisation may grant you permission to apply their logo to the uniform.
If permission is granted, please follow the guidelines above on application of the NHS Identity to the uniform.
Some of the examples featured across this site may have been amended to illustrate how the guidelines should be applied.