Healthy Living gives Janita a 'new life'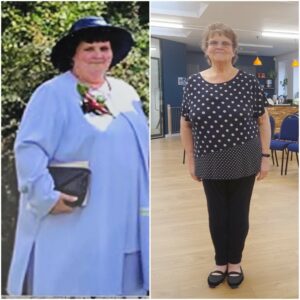 Before joining the Healthy Living programme, Janita Dibb, 69, from Wharfedale, said she felt aware of her diabetes all the time.
Since joining the programme in early 2020, Janita has been motivated to get more active and is now walking an average of 10,000 steps a day. Healthy Living gave Janita the confidence she needed to seek support from other services and by joining an exercise class and a weight loss programme has lost an amazing 9 stone. She's even managed to put her diabetes into remission!
"It's changed my life! All from living healthy. It took me years to realise how my diabetes was harming me. Joining the Healthy Living programme was all very easy. Up until 2020 I didn't even have an iPad, I was a total novice. If I could do it, most people could do it too.
"The best thing about the programme, is that you do it at your own pace and you're able to take in more information because you're not under any pressure.
"I told my family from the beginning that I was on this journey and they were so helpful. I was open about it with my friends too and in prayer groups during lockdown. Everybody was cheering me on and supporting me. It makes you feel it's worthwhile and you aren't on your own. My advice to anyone with type 2 diabetes is: don't hide from it.
"I wish I'd done this years ago, it's opened up a whole new life for me – last year I went on my first holiday abroad with my son and his partner! My family tell me all the time what I've done for them is the best gift."