Bradley's life-changing Flash Glucose Monitor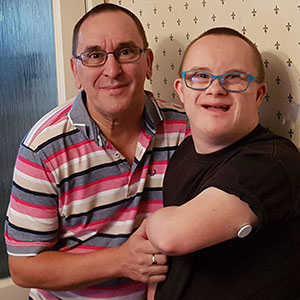 The NHS Long Term Plan made a commitment to "ensure that, in line with clinical guidelines, patients with type 1 diabetes benefit from life changing Flash Glucose Monitors from April 2019, ending the variation patients in some parts of the country are facing."
The original roll out of Flash Glucose Monitoring, or Flash for short, only applied to select patients with Type 1 diabetes. Many people with diabetes and a learning disability have Type 2 diabetes. The NHS is now offering all patients with a learning disability and diabetes, who use insulin to manage their condition, a Flash Glucose Monitor.
Flash uses a sensor that is placed on the back of the upper arm and worn externally by the user, allowing glucose information to be monitored using a mobile app. This information helps the user and their clinical team to identify what changes are needed to insulin administration to achieve optimal glucose control, and therefore reducing the risk of adverse outcomes.
Bradley, who lives with Down's syndrome, was diagnosed with Type 1 diabetes at 9 months old. From then, his Dad Clifford, his primary carer, has had do finger-prick blood tests on Bradley several times a day. That was until Bradley was prescribed a life-changing Flash Glucose Monitor. Clifford told us Bradley's Flash story:
"Before Flash, Bradley's diabetes control was not good, and he always ran very high – somewhere between 10 and 20 most of the time. It meant that we had to do regular finger-prick checks which Bradley absolutely hated – so much so that he actually developed severe anxiety about his hands being touched and we had to seek help and do hand exercises with him to try to reduce his anxiety.
"Bradley attends day centres and respite care centres and, before Flash, the carers there had to carry out finger-prick checks every two hours for safety reasons because his bloods were so erratic – even during the night which meant waking him up every two hours as well. This was all quite traumatic for Bradley and for the carers, and Bradley would often point-blank refuse to have it done which meant an emergency phone call to me to hurry over there to see if I could change his mind. Luckily, the centre was only down the road but having a break is so important for full-time carers like me.
"I always used to say to people that Bradley's Down's syndrome and it's associated conditions are hardly any bother – it's the diabetes that has the biggest impact on our lives. At least, until we got Flash."
The pioneering Flash technology should ultimately help people with a learning disability achieve better health outcomes. The benefits for patients include:
Not having to do finger-prick checks
Making it easier to check glucose levels, so action can be taken earlier
Giving patients, their families and carers more confidence in managing the condition
Clifford continued: "It was like I had diabetes. I had to think for Bradley, but now the Flash thinks for me. Bradley doesn't recognise the signs of changes in his glucose levels so the Flash not only does that for him, but it also tells me what Bradley can't.
"It has been a total blessing and it has completely changed our lives. Bradley's glucose levels are now usually at around a 6 or a 7 which is a huge improvement. We hardly ever have to do finger-prick checks any more (only very rarely if we get an odd reading and just want to double check) and his anxiety around his hands has all but disappeared – he even goes for blood tests now and just sticks his arm out for the nurse whereas before it used to take a few of us to keep him calm and hold him still!
"The carers at the respite centres that Bradley attends – and me when he's at home – can just creep into his room at night, scan his arm and he's left undisturbed and still snoring away. It is so much less disruptive for everyone involved in Bradley's care. I also feel so much less anxious about leaving him with other members of our family and friends – as do they, I imagine – so our support network really has expanded because of Flash which is such a help.
"Before the COVID-19 pandemic and hopefully again when it's safe to, Bradley loves going to concerts. Before Flash, it was always a hassle to check his glucose levels in the middle of all the action, surrounded by strangers and getting all of the kit out in an unsterile evnvironment. Whereas now, Bradly can carry on dancing away and I simply have to wave my phone past his arm – it works though clothes – and I've got my reading, no one in the crowd is any the wiser and Brad is happy. I really cannot recommend Flash highly enough."