Isobel recommends online classes that have reduced her risk of Type 2 diabetes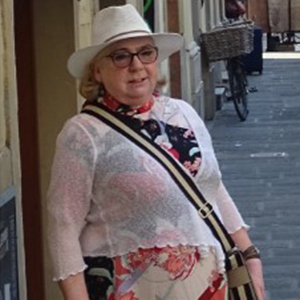 Isobel Brown, from Cumbria, joined her local Healthier You NHS Diabetes Prevention programme after being identified as being at risk of developing Type 2 diabetes. For the last few months, due to social distancing restrictions, Isobel has been attending sessions online.
She said: "In July 2019 I was told that I was at high risk of developing Type 2 diabetes and I was referred onto the Healthier You NHS Diabetes Prevention programme. My health coach Anna was very welcoming and super knowledgeable, and with the help of the programme, by Christmas 2019, I had significantly reduced my risk of Type 2 diabetes. I've gone on to lose 8.2kg in total and I feel so much healthier.
"During this period of lockdown, I have found the remote workshops to be invaluable. I can talk openly about any issues or difficulties I may be experiencing during this strange time and I know my health coach Anna will come up with a brilliant idea to help me through them.
"I really don't think I would be able to continue this journey without the help and support I get through the workshops. Also, it is really good to connect with members and coaches from other parts of the country!
"Health is the most important thing you have and the Healthier You programme will help you to maintain it. You will be at a lower risk of Type 2 diabetes, heart disease and many other associated conditions – it is a programme that I wholeheartedly recommend."
Type 2 diabetes is a potentially serious health condition. Find out if you are at risk of developing the condition so that you can do something about it with support from your free local Healthier You service. You can do this at riskscore.diabetes.org.uk – it's free and only takes a few minutes.