Diabetes Specialist Nurse Glynis helps Sarah manage Type 2 diabetes into remission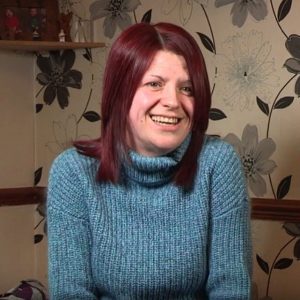 Sarah Morris-Parry's world was turned upside down when, in 2007 on her 27th birthday, she was diagnosed with Type 2 diabetes.
The now 37-year-old from Leek, Staffordshire has not only achieved remission of the condition but gone on to have two more children after struggling to fall pregnant for 14 years, something she puts down to the support from her Diabetes Specialist Nurse, Glynis.
Sarah told us: "When I was diagnosed, I didn't understand what Type 2 diabetes was. My life spiralled out of control and was run by medication.
"I'd already had one child, but we'd been trying for 14 years to get pregnant again. The heartbreak every month to find out you're not pregnant was devastating."
It was when Sarah was referred to the Diabetes Specialist Nurses at her local hospital that her life started to change for the better.
"Glynis made me feel like I was a person. I wasn't just another number or another diagnosis; I was somebody that was worth fighting to save.
"I didn't realise just how much her support would change my life. She helped me get my blood sugar levels under control straight away and I lost ten pounds in the first week.
Within two and a half months of meeting Glynis, Sarah had stopped all medication completely. She had put her Type 2 diabetes into remission.
"My husband and I now have a beautiful baby boy, Peter, who was born on 13 August 2017, and we've since gone on to have Alfred. It is truly amazing. My son and husband are proud of me and what I've done; my son tells me every day.
"In total, I've lost nine and a half stone. I've lost more weight that I actually weigh!"
The NHS Long Term Plan has made a commitment to a range of services for those at risk of Type 2 diabetes and living with Type 1 and Type 2 diabetes. It recognises that access to diabetes professionals is crucial for optimum treatment and care. As part of this, NHS England is working hard to improve outcomes for those with all forms of diabetes in an evidence-based and sustainable way and  £105 million has already been invested in a number of key priority areas including expanding patient access to Diabetes Specialist Nurses in a bid to help them better manage their condition, like Sarah.
Diabetes Specialist Nurse, Glynis Johnson, said: "I knew that Sarah wanted to get pregnant, but I was also aware that she had Polycystic Ovarian Syndrome. I knew that if we could help Sarah to lower her insulin levels, there was a chance that she would be able to become pregnant.
"From meeting somebody that was so sad, to knowing her now with her beautiful family; she's living a life."
Watch Sarah and Glynis telling their full story: