Sarah's #diabetesandme story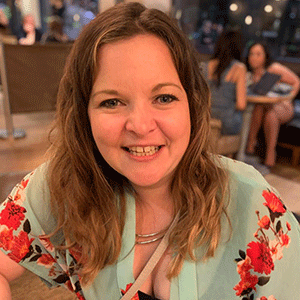 Mum-of-two, Sarah Russell from Leeds was diagnosed with Type 1 diabetes at the age of five whilst on holiday with her family in Great Yarmouth.
Sarah remembers: "A couple of days into the holiday, I – very scarily – went into a coma on the beach. I had been quite poorly in the run up to the holiday but, 30 years ago, it was so uncommon for a child of my age to be diagnosed with Type 1 diabetes that no one suspected for a single second that could be the cause!"
Sarah spent ten days of her two week holiday in hospital learning how to do injections and has been injecting herself four times a day ever since.
"Growing up with diabetes was a challenge and I was treated differently because of it – but I soon realised that it's OK to be different. If we weren't different then life would be pretty boring!"
The now 37-year-old has two children of her own and, during both pregnancies, Sarah received "invaluable support" from a team of Diabetes Specialist Nurses at St. James's Hospital – funded through local Transformation Funding to help improve treatment and care of people living with diabetes.
Sarah told us: "Thanks to NHS funding, I've been able to access some fantastic support in the form of a team of Diabetes Specialist Nurses at my local hospital that pretty much held my hand before, during and after both of my pregnancies. They have been my absolute lifeline.
"Managing your diabetes is hard at the best of times but it is even more difficult throughout pregnancy and it's also extremely difficult once the baby comes along, especially if you want to breastfeed which I did with both of my children.
"The Diabetes Specialist Nurses provided the vital and comprehensive support that I needed so very much; they got me safely through both of my pregnancies and played a critical role in the good-management of my diabetes during that time, and still now."
Throughout her pregnancies, Sarah met with her Diabetes Specialist Nurse every two weeks because she was classed as high-risk due to having Type 1 diabetes.
"As well as giving me, quite frankly, life-saving advice, the nurses also held my hand, let me know that I was doing a good job and reassured me that everything was OK, which was so appreciated during what was already a very anxious time.
"Living with Type 1 diabetes for so long, you'd think I would be an expert but there are so many things that happen throughout your life that can really affect how you have to manage the condition. I'd never been pregnant before so it was all a big shock for my body and my diabetes so having that extra care just really, really helped."
Sarah's Diabetes Specialist Nurse would check her weight, blood pressure, urine and blood sugar levels. Sarah and the nurse would then meet with the whole diabetes specialist team – including a dietician and doctor – and, together, they'd discuss Sarah's diabetes management and give her expert advice.
Sarah said: "I think if I hadn't have had the support from the Diabetes Specialist Nurses throughout my pregnancies, I don't think that I'd have been able to become mentally prepared and mentally equipped for, not only becoming a mum, but a mum with Type 1 diabetes."
Diabetes Specialist Nurses provide support to all people with diabetes, not just those that are pregnant. Now, if Sarah has any problems or concerns, she simply gives the diabetes team at her local hospital a call and speaks to one of the Diabetes Specialist Nurses who will answer her questions and provide essential support.
"I can just ring them up and they say "hello, how can I help?" and that's as good as an NHS service can get really – I couldn't ask for more. Knowledge is power so I think it's important that people with diabetes reach out, ask questions and seek help when they need it.
"They've taught me that diabetes is making sure that you are prepared for all eventualities. It's about learning to accept what you've got and managing it as best you possibly can, and if you do have a few wobbles along the way then don't beat yourself up about it either.
"Whereas most people have lipstick and eyeliner in their handbags, I carry sugar, my blood test machine and my injection with me in my wherever I go.  As long as I've got those three things, anything is possible!"
The NHS Long Term Plan has made a commitment to a range of services for those at risk of Type 2 diabetes and living with Type 1 and Type 2 diabetes. It recognises that access to diabetes professionals is crucial for optimum treatment and care. As part of this, NHS England is working hard to improve outcomes for those with all forms of diabetes in an evidence-based and sustainable way and  £80 million has already been invested in a number of key priority areas including expanding patient access to Diabetes Specialist Nurses in a bid to help them better manage their condition, like Sarah.
Asked what advice she'd give others living with Type 1 diabetes, Sarah said: "Ultimately, Type 1 diabetes is going to be with you for the rest of your life so you need to learn to be friends with it and look after it, because if you look after diabetes, it'll look after you. Thank you to the team of Diabetes Specialist Nurses who continue to help me to do that!"