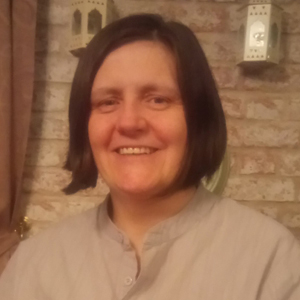 49 year old Christine Jackson from Leeds discovered she was at high risk of developing Type 2 diabetes after a routine blood test. She received a letter from her GP inviting her to take part in the Healthier You: NHS Diabetes Prevention Programme (DPP); a face-to-face behavioural change programme with a focus on education on healthy eating and lifestyle choices, reducing weight through bespoke physical exercise programmes and portion control.
After some initial discussions with a local diabetes specialist nurse, Christine decided to take up the offer:
"I always thought I was healthy, so hearing that I was at high risk of developing Type 2 diabetes was a complete shock. The nurse explained that this new programme would support me to make simple changes to reduce my risk, as well as give me the opportunity to interact with others in my situation and help to test a new way in diabetes prevention."
Less than a month after agreeing to take part Christine attended her first group meeting with around nine other people from her local area who had also been identified as being at high risk of developing the condition. During these weekly, and then monthly, meetings Christine learnt more and more about diabetes as a condition as well as weight management, healthy eating and physical exercise.
"I didn't know much about diabetes before I started – apart from that there were two main types and that people with diabetes used insulin and medication. Through the programme I found out more about the associated complications and further risk of disease – including the higher risk of heart attacks and stroke. It scared me to think that could happen to me and I was determined to make a change.
"Despite thinking I ate relatively well, lessons taught me some invaluable lessons about fat, sugar and portion size. The presenters were really informative and used props and diagrams to help explain things clearly. We were also given handouts so that we could put our learning into practice outside of the sessions."
Christine began to make changes straight away; making more informed food choices, keeping a close eye on portion sizes and joining a gym.
"Learning about portion size and the handy acronym 'F.A.T' (to remind me about Frequency, Amount and Type) really revolutionised my diet. I found my new knowledge about food really exciting and enjoyed sharing what I'd learnt with friends and family. The presenter of the Healthier You sessions referred me to service where I was introduced to a Health Trainer. The trainer I met asked me to keep a food diary; I was really pleased when he said that I had a really good diet and knew that was because I was putting my learning into action. I was also given the confidence to join a gym."
A year after starting the programme Christine has dropped two dress sizes, lost two stone in weight and 4 inches around her waist. Christine's blood sugar levels have also been decreased to a normal level, meaning she is no longer at high risk of developing Type 2 diabetes. As well as physical health benefits, Christine began to notice that her confidence increased due to looking and feeling better, and that her general wellbeing had also improved.
"The threat of diabetes scared me and gave me the push I needed to make the small changes which ultimately mean a big deal for my health. The NHS Diabetes Prevention Programme gave me the advice, support and structure to reach my goals. I would say to anyone considering taking part in the programme to go for it – it's amazing how much I've learned and I hope that as the programme expands it helps many more people like me."
Find out more about the NHS Diabetes Prevention Programme.