Our NHS at 75 – shortlist announced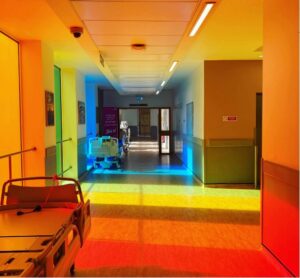 We are delighted to announce the shortlisted photos from the 'Our NHS at 75' photo competition, in partnership with Fujifilm.
The striking images display the extraordinary talent of our NHS staff, and those who work or volunteer alongside them.
One of the images features Britain's oldest volunteer 102-year-old Beryl Carr, who can recall the very first day the NHS came into existence.
Among the other entries there are striking images capturing a patient playing a violin while undergoing brain surgery, a pharmacy robot, air ambulances and those documenting the NHS' incredible COVID-19 vaccination effort. Entries were judged by a star-studded panel including This Morning's resident GP Dr Ellie, award winning journalist Victoria Macdonald, eminent photographer Lewis Khan, Dr Habib Naqvi MBE, Fujifilm's Theo Georghiades and Chief Nursing Officer for England, Dame Ruth May.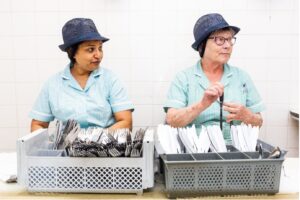 The competition saw hundreds of photos entered by staff and volunteers across five categories, including: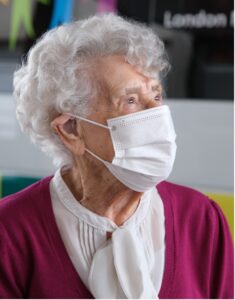 Each of the 75 shortlisted photographers have been invited to the launch event of 'Our NHS at 75' on the 4 July at the Fujifilm House of Photography, where the competition winners will also be announced.
The 75 photographs will be displayed at an exhibition at Fujifilm House of Photography in Covent Garden, London and will be open to public viewing from the 5 July – 75 years to the day from the date that the NHS was established.
The five winners will also have their photograph displayed at the NHS 75th anniversary service at Westminster Abbey on Wednesday 5th July.
Our care shortlist
| | |
| --- | --- |
| Alice Kenny | University Hospitals Bristol and Weston NHS Foundation Trust |
| Beatriz Guandelini Campesi | NHS Property Services |
| Brendan McIlhargey | Ashford and St Peter's Hospitals NHS Foundation Trust |
| Deborah Wickens | Barking Havering and Redbridge NHS Hospitals Trust |
| Ewa Gasior | NHS Leeds Teaching Hospitals |
| Joe O'Hagan | Royal Brompton and Harefield Hospitals |
| John Slater | The Rotherham NHS Foundation Trust |
| Jon Williamson | University College Hospital London |
| Kristen Zaira Morales | Imperial Colllege Healthcare NHS Trust |
| Mike Fulford | Wrightington, Wigan and Leigh Teaching Hospitals NHS Foundation Trust |
| Miriam Yacomeni | Royal United Hospital |
| Muhibur Miah | Barts Health NHS Trust |
| Petro Bekker | Wrightington, Wigan and Leigh Teaching Hospitals |
| Richard Pearson | Royal Cornwall Hospitals NHS Trust |
| Zahra Makada | Mid Yorkshire Teaching NHS Trust |
Our environment shortlist
| | |
| --- | --- |
| Addison Evans | Eynsham Medical Group |
| Caroline Ann Green | Oxford University Hospital NHS Foundation Trust |
| Davina Abbott | The Royal Wolverhampton NHS Trust |
| Derek Francis | St Georges Hospital NHS Trust London |
| Elena Comber-Davies | University Hospitals of North Midlands NHS Trust – Royal Stoke |
| Ella Barks | Oxford Medical Illustration |
| Joe Cartwright | South Western Ambulance Service |
| Jose Renato Hernandez | Barts Health NHS |
| Laura Abbatiello | Birmingham Community Healthcare NHS Foundation Trust |
| Lottie Bolster | Lottie Bolster studios |
| Lucy Wilmer | University Hospitals Bristol and Weston NHS Foundation Trust |
| Nicci Starr | NHS Somerset ICB |
| Priya Lankathilake | Barts Health |
| Rebecca Albany | Barts Health Trust |
| Stacey Camp | Mid Yorks NHS Teaching Trust |
Our innovations shortlist
| | |
| --- | --- |
| Carmen Carrera-Bravo | Cambridge University Hospitals |
| Christopher Hardy | Pennine Care Foundation NHS Trust |
| Emily Arthur | Oxford University Hospitals NHS Trust |
| Hayley Edwards | NHS England – North West |
| Lee Edwards | Gloucestershire Hospitals NHS Foundation Trust |
| Neil Parmar | University Hospitals Birmingham |
| Nial Anderson | King's College Hospital NHS Trust |
| Nigel Haywood | Gloucestershire Hospitals Managed Services (GMS) |
| Nikki Stares | Portsmouth Hospitals University NHS Trust |
| Rhianna Marsden | Derbyshire Community Health Services |
| Richard Aldred | Gloucestershire Hospitals NHS Foundation Trust |
| Simon Brinkworth | University Hospitals Bristol and Weston NHS Foundation Trust |
| Wasim Baqir | Northumbria Healthcare NHS Trust |
| Waqas Akhtar | Guy's and St Thomas Foundation NHS Trust |
| Zeid Abussuud | National Hospital for Neurology and Neurosurgery (University College London Hospitals) |
Our partners shortlist
Amina Abu El Hawa
Airedale NHS Foundation Trust
Carys Knapper
Staffordshire and Stoke Integrated Care System
Claire Morton
South Warwickshire University NHS Foundation Trust
Dan Elms
East Suffolk and North Essex NHS Foundation Trust
Jordan Duke
Nottinghamshire Healthcare NHS Foundation Trust
Julian Ivery
The Royal Wolverhampton NHS Trust
Laura Abbatiello
Birmingham Community Healthcare NHS Foundation Trust
Mary McConnell and
Jenny Brodie
Royal Free London NHS Foundation Trust
Mihaela Wopat
Cambridge University Hospitals
Mrs Tracy Crossin
Portsmouth University Hospitals
Peta Miller
Oxleas NHS Foundation Trust
Piotr Peksa
Barts Health NHS Trust
Richard Tatham
Sherwood Forest
Ross Mainprize
Yorkshire Ambulance Service NHS Trust
Steve Watkins
London Northwest University Healthcare NHS Trust
Our people shortlist
| | |
| --- | --- |
| Amy Sumner | Portsmouth Hospitals University Trust |
| Arva Gallofin | Central and North West London NHS Foundation Trust |
| Belinda Hastie | NHS Blood and Transplant |
| Ben Carter | University Hospitals Coventry and Warwickshire NHS Trust |
| Caitlin O'Connell | Leeds Teaching Hospitals NHS Trust |
| David Enyori | Mid Yorks Teaching Hospital |
| Emmanuel Espiritu | Chelsea and Westminster, West Middlesex Hospital NHS Trust |
| Haidee S. Evangelista | Barts Health NHS Trust (Newham University Hospital) |
| Jason Dimmock | Salisbury NHS Foundation Trust |
| Jenny Anila Potasznik | Royal United Hospitals, Bath |
| Megan Litjens | Calderdale and Huddersfield NHS Foundation Trust |
| Morten Watkins | Portsmouth Hospitals University NHS Trust |
| Nesa Kelmendi | Royal Cornwall Hospitals NHS Trust |
| Roopal Vyas | NHS England |
| Ruthie Clegg | York Hospital |